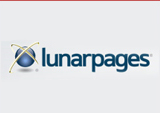 Lunar Pages was founded in the summer of 2000 when Add2Net Corporation expanded its hosting offerings to include shared hosting. Lunarpages Web Hosting, based in California and serving over 100,000 customers in over 200 countries, offers affordable award winning shared and dedicated web hosting and web design services. LunarPages will pleasantly surprise you if you're after a cheap, reliable and helpful web host. They offer shared web hosting, windows web hosting, VPS, and dedicated servers. Lunarpages does everything and does it well-all for $6. Lunarpages is special as it is one of the few affordable web hosts which offers its customers both Linux and Windows hosting plans.
Reliability
Lunarpages boasts an impressive 1500 servers, housed in 2 modern data centers, featuring full UPS protection and backup power generation. The Lunarpages datacenter is located in Los Angeles, California and uses a BGP4 routed gigabit fiber network that is multi-homed with over 150 carriers. While we obviously can not guarantee that you will experience similar 100% uptime with your own Lunarpages hosted site, their infrastructure does appear to be extremely robust and reliable. This powerful technical setup guarantees that Lunarpages keeps their uptime promise and your site will run smoothly. Approximately 120,000 sites are hosted on Lunarpages servers today.
Price Value
LunarPages provides top quality web hosting at affordable prices, including 3500 GB of bandwidth, 350 GB storage, MySQL database, POP and web-based e-mail, and the latest versions of PERL, PHP, ASP, JSP, and PYTHON. Lunarpages continues to offer $700 worth of CoffeeCup Webmaster-and-Design Software absolutely free on every Basic, Business, Windows, and VPS Plan for 12 or 24 month purchases, 1 free domain name for life on their Basic Plan (4 on their Business), and will transfer the time remaining on your old host to your new Lunarpages account for up to 6 months. For the price you pay and the amount of space, features, and support you get, Lunarpages is quite the steal.
Control Panel
Lunarpages uses CPanel as the web site control panel. The Control Panel (cPanel) has tons of built-in scripts and templates for discussion boards, E-Commerce, guestbooks, image galleries and blogs. It allows you to control a lot of things, including email accounts, MySQL databases, custom error messages, password protected directories, setting up forum, shopping cart, chat room, cron jobs, sub domains, MIME types, apache handlers, search engine submission, free CGI scripts and many more. Lunarpages also offers over 50 online tutorials, FAQs, an online control panel manual and a glossary. You can see the demo of the Control Panel before ordering.
Customer Support
Support is available by phone, email, and online ticketing. There is also a forum where other customers are very willing to help each other out. They are there anytime customers need them with their 27/7/365 customer support system. From the support page customers can also access a support ticket system, online tutorials and a knowledgebase. Lunarpages is excellent about keeping their customers informed about the goings on of their server. Their open community forum is flooded with tons of happy customers.
Lunar Pages Main Features
350 GB Storage, 3500 GB BW
30 day money back
Fantastico Script Library
Unlimited MySQL Databases
50 PostgreSQL Databases
24 hour Toll-free support
Free domain name for life
Blogs 3 included
Website Templates
Customer Support Tools 6 included
E-mail Key Features
Unlimited Email Autoresponders
Unlimited Forwarding Email Accounts
2 Different Web Based Email Solutions
IMAP Email support
POP3 Email Support
Domain Key Features
Unlimited SubDomains
10 Add-On Domains
Unlimited Parked Domains
Free domain name for life
Support International Domain Names
Summary:
Low price of hosting packages, comprehensive features, and the high level technical staff are the most critical points which make Lunarpages as the best choice for budget web hosting. They also offer other features not listed and is capable of hosting most sites efficiently, and includes about any tool you could need, from surveys to running classifieds. Their hosting packages are suitable for all kind of users starting from a newbie to a professional user, who is running an online business.
Lunar Pages is ranked number three on the top ten list = Top Support + Great control panel